Thesis Advisory Committee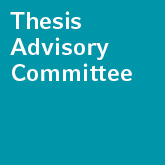 The Thesis Advisory Committees (TACs) are a fundamental component of the doctoral training within the CRC 1054 IRTG. TACs secure a constant survey of progress and problems in individual doctoral research projects.
Each member of the IRTG should assemble their TAC at the beginning of their thesis work. Typically, a TAC consists of two CRC members selected by the doctoral researcher. The first meeting of this advisory committee, the doctoral researcher and the immediate supervisor should take place early after entry into the IRTG program in order to put together milestones for the project. These milestones are subsequently discussed on an annual basis within committee meetings and eventually are adjusted.