Training
We offer a training program tailored to the needs and wishes of our female CRC members, which includes courses on communication, presentation, leadership, time- and selfmanagement.
Recent Workshops
Job Application for Female Scientists
Date: Monday, 15 July & Wednesday, 17 July 2019 (2 days)
Times: 09.00 - 05.00 pm
Venue: BMC, Großhaderner Str. 9, Planegg-Martinsried
Language: English
Trainer: Prof. Dr. Brooke Gazdag (LMU Institute for Leadership and Organization)
Workshop content:
This workshop will focus on preparing the participants for searching for and applying to positions, both in academia and industry, as well as the interview process. In addition to information on best practices, the participants will have the chance to recieve general feedback on application documents as well as practice for the interview.
Registration:
If you are interested in this workshop and/or would like to register for it, please send an email to Katharina Frank
Past Workshops
Job Application
Workshop Details:
Date: Monday, 30 July - Tuesday, 31. July 2018 (2 days)
Venue: BMC, Großhaderner Str. 9, Planegg-Martinsried
Language: English
Trainer: Julia Lübbers
Workshop content:
Will you finish your doctorate soon and are you looking for new career challenges outside the world of academia? Are you aware of your strengths and wide-ranging skills, but not sure how to apply them in a job application or in a job interview?
In this workshop, we will focus on the professional presentation of your skills in a résumé, a cover letter and during a job interview.
For the job interview the workshop will address the following topics: a convincing introduction, the most common questions and the thorough preparation for an interview. We will do a role-play with you in order to simulate a job interview situation.
After the workshop you will know how
to structure your résumé and write an excellent cover letter according to a job description
applications differ depending on the country you are applying in
to present yourself confidently and convincingly in a job interview.
Please bring your current documents (cover letter, résumé) with you to get individualized feedback.
________________________________________________________________________________________
Networking for female scientists

Workshop Details:
Date: Friday, 08 December 2017 (1 day)
Trainer: Jacqueline von Saldern
Workshop content:
The possibilities to make quick and target focused contact with experts, colleagues, potential employers and staff members, funders and business partners have increased in number and significance. In the light of growing complexity in the knowledge society and better electronic contact possibilities, the 'know-who' is gaining in importance next to the 'know-how'.




In the academic sector, as elsewhere, personal contacts enhance the chances of finding supporters and funders for one's own project, of receiving conference invitations, of being involved in publications, and of being told about interesting positions.
Networking requires initiative and continued investment. It is helpful, in this context, to be able to rely on proven strategies to make the right contacts, to communicate in a target focused way and to find the balance between giving and taking. The workshop transmits these proven networking techniques. The following points are dealt with:
Basics of networking: Objectives – right from the start!
Before the harvest, sow: Building contacts
Network care: The dos and don'ts of networking
Network university: Which contacts and bodies are important?
Networking as investment: Benefits versus costs
Small talk as icebreaker: Getting into conversation confidently
Typical woman!? Gender specific strengths and strategies
Networking: My next steps
Trainer:
Jacqueline von Saldern, Berlin, is a trainer and career counsellor with a special focus on international senior professionals in the fields of public policy, development, academia and non-profit. She worked in leadership positions within the NGO sector for 20 years, most recently as Executive Director of the Tönissteiner Kreis, Associate Director of the American Academy and project manager of the Robert Bosch Foundation. With a German-American background raised bilingually in New York and over 25 years of international experience she works in both languages. Her special expertise includes career development, leadership skills, intercultural communication and networking – especially for women.
________________________________________________________________________________________
Leading with Excellence. Leading in Research/Upward Leadership
Workshop Details:
Date: Thursday, 19 October 2017 (1 day)
Trainer: Dr. Janina Mundt & Irmgard Mausz; LMU Center for Leadership and People Management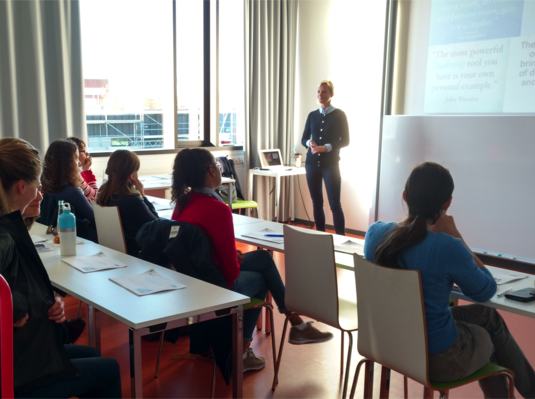 Workshop content:
Our premise is that professional leadership and teamwork are essential for scientific excellence. This seminar will introduce to you fundamental, theory-based principles of successful leadership and teamwork and will provide you with practical strategies. We usually think of leadership as a process of top-down influence from supervisors to their followers. Yet, for an effective collaboration, followers should be actively involved in the leadership process. This seminar will teach you how to lead effectively from your position as a Ph.D. student.
Central questions
How do I lead myself, my followers and my supervisor?
What techniques can I use to improve the cooperation with my supervisor and within our team?
How do I improve my own communication, as well as our team communication?
How can we cooperate and resolve conflicts in our team productively?
How can we create a culture of excellence in our team?
Methods
First, the seminar provides an overview of the main theories and models of professional leadership. We analyze your role as a leader (e.g., your interaction with student assistants, diploma students or interns) and discuss strategies for improvement of your leadership skills. Second, we present the main theories and methods of cooperation and successful conflict resolution in teams. Finally, we develop viable strategies for an effective cooperation with your supervisor. Overall the seminar is characterized by a combination of theoretical concepts and specific practical tools for implication. You will have the opportunity to exchange views on your individual experiences and your individual concerns in a moderated and practice-oriented discussion. Through role-playing and continuous cross-referencing between application and theory, you will gain helpful insights for developing your own behavior.
_________________________________________________________________________________________
Professional Presentations at Conferences and in the Academic World
Monday, 10 July – Tuesday, 11 July 2017 (2 days)
Trainer: Dr. Carrie B. Dohe
The focus of the seminar was on the formal conference panel presentation and the question-and-answer session, and includes sections on the presentation structure, attention- getting openers, visual aids and linguistic cues for the audience (signposting language); we also discussed and practiced networking, small talk, the elevator speech, and introduction speeches.




CRC members participating in the Professional Presentation Workshop.
Participants held individual presentations, followed by a short question-and-answer session. Afterwards, each presenter received ample feedback from the entire group on all aspects of the presentation. Especially we focused on whether
the opening grabbed the audience's attention and correctly oriented us to the topic at hand;
the conclusion summed up the main points adequately, providing us with the desired "take-home messages";
the body of the presentation contained a narrative thread and transitional elements to help the audience stay on-track;
the data or evidence presented was clear, balanced, sufficient and essential;
the visual aids supplemented the talk without overwhelming or distracting from it;
the presenter's verbal and non-verbal communication conveyed professionalism, confidence, and expertise; and
the presenter's answers to questions were concise, coherent, and composed.